Of course all of us who have a passion for listening to music want it to sound its best. At the same time most of us don't have unlimited funds so we need to stick to a certain budget.
Well today we are going to look at the best stereo speakers under $1000, and at that price point, we think you can get something decent. So let's take a look at what's available and see if there are some stereo speakers that fit your needs and your budget.
Remember there are other considerations when picking out speakers such as the size of your room. For more info on that check out: Speaker Size vs Room Size. For this article we are focusing on floor standing speakers, for book shelf speakers check out The Best Bookshelf Speakers Under $300. Let's get started shall we?
Q Acoustics 3050 Floor Standing Speakers
The Q Acoustics 3050 speakers are a great bargain combining an exceptional sound quality and a unique pleasing design that will look good in your room. They have three drivers all in the top half of the cabinet and are quite heavy due to their solid construction. Note: They are most stable on an even surface.
These speakers come in various colors including Graphite Grey, English Walnut, Carbon Black, and Arctic White.
These speakers definitely should be considered. They have great sound and looks for a great price.
 Pros
Outstanding Sound
Nice Looking
Excellent Treble
Cons
Lacking High-range Frequency
SVS Prime Towers (Black-ash)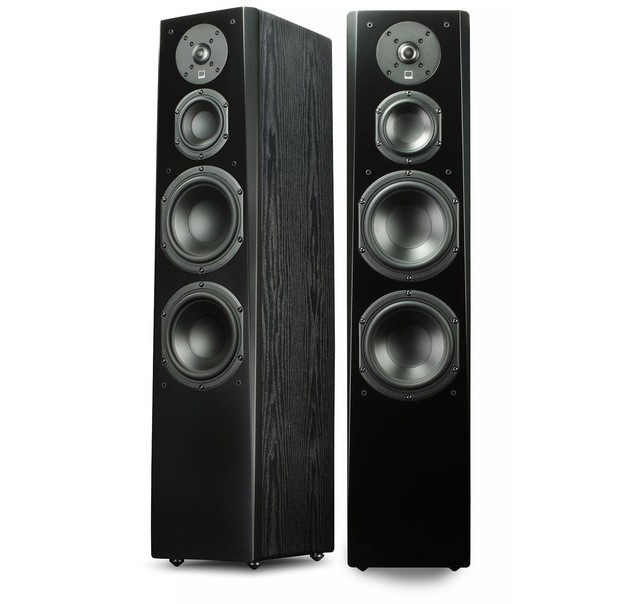 Three-way speakers have been around for quite awhile and divide the sound in which the bass, midrange, and treble each get their own driver. They are a lot more difficult to engineer but SVS has figured it out with their new Prime Towers speakers.
These are beautiful looking speakers that look and sound like they would be much more expensive. They have such great HiFi detail for the price they'd be a bargain for any audiophile.
One downside with this amount of detail is that some of the warmth in the sound can get lost. Overall though, these speakers have to be recommended because they are really high quality at a lower price point.
Pros
It has a midrange drive of 4.5-inch.
Articulate and Deep Bass.
Rigid and Light Cone Material.
High-quality Sound in Three-way.
Cons
Need Improvement in Treble and Mid Ranges
Klipsch RP-260F Reference
Klipsch is a well-known company and are also known for producing speakers with horn-loaded tweeters. The RP-260F Reference have a unique design in that the speakers in the cabinet are placed above ground level and the bottom speakers have a 2-degree tilt for an ideal angle adjustment. This is actually an improvement upon its predecessors.
As far as materials, the woofers are Spun Copper Cerametallic which is used in most Klipsch woofers and the tweeters are made of aluminum. The trademark copper accents blend well with the cabinets that come in black and cherry colors.
Regarding actual performance, this speaker is one of the best on the market with an audio quality that is noticeably better than most of its competitors. These speakers also handle high volume quite well with a sensitivity that reaches up to 98 decibels.
The one small drawback for these speakers is they don't support Bluetooth, but if you want one of the best speakers available at this price you can't go wrong with the RP-260F.
Pros
Powerful Highs
Stylish Design
Durable
Cons
PSB Image T5 Floor-Standing Speakers
Our next set of speakers come from the Canadian speaker designer PSB. PSB speakers have a reputation for a high build quality and accurate sound.
With the T5 speakers you'll get a 1-inch aluminum dome tweeter and two 5.25 inch woofers.
They have an impressive performance going down to 35Hz allowing you to use them without a sub woofer and still get a good bass sound. They also have a sensitivity up to 90 decibels responding well with most receivers or amplifiers.
Overall there are speakers that are much more refined, but would cost much more than the T5s and would also need expensive amplification. The PSB Image T5 are a pair of nice full range speakers that are easier to drive than some of the others on this list. For most people that are serious about good sound, the T5s deliver with a price that is within reach.
Pros
Accurate Sound
High Build Quality
Works With Most Receivers/Amps
Cons
Fluance Signature Series
This set of speakers is one of the better pair on this list when it comes to surround sound. The Fluance Signature series have great precision and accuracy that features dual 8 inch woofers for a nice low-frequency bass performance.
The high-range neodymium tweeters have great clarity with high frequency production and we also need to mention that the mid-range sounds great as well.
These speakers have an acoustically inert design and the cabinets feature precise audio-grade MDF wood that limit distortion and produce a warm sound. With the woven glass fiber cone you'll get an enhanced sound stage heightening your overall entertainment experience.
The Fluance Signature series speakers are great for music but really shine for surround sound and will fit wonderfully in your current surround sound setup.
Pros

Great for Surround Sound
Accurate Sound Quality
Good Mid-range Sound
Cons
ELAC Debut 2.0 F6.2
The ELAC Debut 2.0 F6.2 are designed by the legendary Andrew Jones. With that in mind, it might be hard to find anything that sounds as good in its price range.
With these you won't get the boosted mids and highs or the smoothed out sound that you'll find in more expensive speakers but you can expect great detail and texture.
As far as bass response, these speakers perform really well utilizing multiple reflex ports. With the 6-inch drivers the bass is delivered with just the right punch and warmth depending on the situation. If you do add a sub woofer make sure it's a high quality one, going the cheap route won't do you any good.
These speakers have a great build quality but only come in the black ash vinyl finish.
With a 6 Ohms and 87 decibel sensitivity you'll need a relatively powerful amplifier to make them sound their best.
Overall, these are great speakers with little to fault and sound much better than their price.
Pros
Great Sound for the Price
Natural Warm Sound
Versatile for Music and Cinema
Cons
Polk Audio TSi500
Polk has been in this business a long time and the Polk Audio Tsi500 may be the standard for speakers that sound great while still being affordable.
Each speaker tower has a 1-inch silk dome tweeter and four 6.5-inch bi-laminate woofers made from organic material. Using Dynamic Balance sound technology, you'll get a full and loud sound without distortion.
The cabinets use solid MDF with quarter-inch baffles ensuring that any acoustic resonance is dampened.
You'll get an accurate performance from their optimized frequency response that comes with a Klippel motor.
With the Polk Audio TSi500 you can expect a magnificent powerful sound that has warmth and clarity. All of this at a great price.
Pros
Bass Has a Good Punch.
Good Home Theater Option.
Reasonable Price

Cons
Needs Better Bass Response
Buy at World Wide Stereo: Polk Audio TSi500 High Performance Tower Speakers with Four 6-1/2″ Drivers – Pair (Cherry)
Conclusion
So we've presented seven floor standing speakers all priced under $1000. All of these are of high quality and will perform well for you. Hopefully this information will be helpful in your search and you'll get a chance to liste to some before you buy.  If you are looking for home theater speakers check out The Best Speakers for Home Theaters.  I personally bought a pair of SVS Prime Tower speakers, check out the unboxing video to get a closer look. As always thanks for your time and please leave comments below.
Shop all Weekly Deals for up to 50% off + Free Shipping on select TVs, Headphones, Home Theater, Bluetooth Speakers, and MORE at World Wide Stereo.